In Memoriam
Officer Gregory Casillas
Pomona Police Department
EOW March 9, 2018
Another honor for the Band to be a small part of Officer Casillas' services.
---
---
---
RIP
Los Angeles City Firefighter Kelly Wong
On June 5th Firefighter Kelly Wong was killed in a training accident.  Laid to rest on June 16th the Pipes and Drums from al Fire California Professional Firefighters, Orange County Fire Authority and Las Vegas Played the Procession.
The Procession began at LA City Hall and escorted Kelly atop LA City Fire truck to the Los Angeles Cathedral.
RIP Firefighter Kelly.
–
The Los Angeles Fire Department (LAFD) is saddened to announce the on duty passing of Firefighter Kelly Wong.
Firefighter Wong, 29, fell from an LAFD aerial ladder while participating in a training exercise Downtown on the morning of Saturday, June 3. Fellow firefighters and paramedics rendered immediate medical attention and transported him in critical condition to a local trauma center. Despite the heroic efforts of doctors and nurses at the hospital, Firefighter Wong succumbed to his injuries early Monday, June 5.
He was a two year veteran of the LAFD and was assigned to Fire Station 92 in Rancho Park at the time of his passing. He was scheduled to transfer to Fire Station 9 serving Downtown and Skid Row on June 12 and was working at that station at the time of the accident.
Firefighter Wong graduated from the LAFD Recruit Academy on Terminal Island in August 2015, earning accolades as the top academic performer in his class.
"I join the men and women of the LAFD in mourning Firefighter Wong's sudden passing," said LAFD Chief Ralph Terrazas. "It is always a tragedy to lose one of our own, especially an accomplished individual who was still at the beginning of what was certainly going to be a promising career."
Firefighter Wong is survived by his wife Danielle, his infant son Colton, his mother Ann, his mother-in-law and father-in-law Barbara and Michael Quinlan and his sisters-in-law Nicole and Stephanie.
The LAFD, in conjunction with state safety agencies, are conducting an investigation into the circumstances surrounding this tragedy.
---
Cpl. Robby Reyes United States Marine Corps
Cpl. Reyes was killed in a training accident while served as a crew chief  on the MV-22 Osprey aircraft. Reyes was deployed in March of 2012 to serve on the USS Iwo Jima. Two short weeks later, the U.S. Marine Corps informed his wife Candice that Robby had passed away in a military training exercise.
Los Angeles Police,Emerald Society Pipes and Drums were honored to be a small part in the services honoring him.
Note from Mrs. Candice Reyes
Jeremiah Mackey San Bernardino County Sheriff 
EOW February 12, 2013
---
Joshua Cullins EOW: October 18, 2010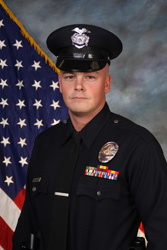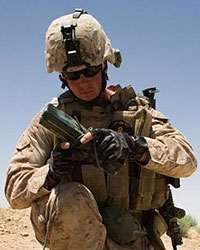 The LAPES Pipe and Drum Band would like to extend their condolences to the family and friends of LAPD Officer and United States Marine Corps Staff Sergeant Joshua Cullins. Joshua was activated and serving in the Helmand Province in Afghanistan. On October 18, 2010 Joshua was killed by a road side bomb.
In August, 2010 SSG Cullins was injured by a bomb blast while serving on the same deployment in Afghanistan. He recovered from his injuries. His extended family from LAPD made these two videos to wish him a speedy recovery and his return back to LAPD.
---
Robert J. Cottle EOW: March 24, 2010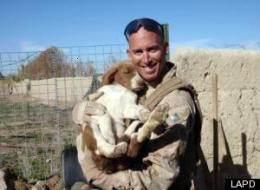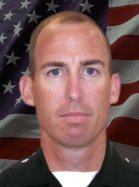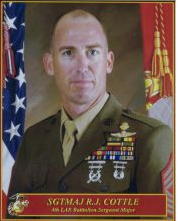 LAPD Police Officer III+I and United States Marine Corps Sergeant Major Robert J. Cottle was killed on March 24, 2010 by a roadside bomb in the Helmand Province of Afghanistan.  RJ was the first LAPD officer to be killed while serving in Iraqi or Afghanistan.  RJ had completed two tours in Iraqi prior to his deployment to Afghanistan.  RJ was a member of LAPD's elite SWAT unit.
The LAPES Pipe and Drum Band would like to extend their condolences to RJ's wife, family, and friends.
Click on You Tube to view
---
LAPD Police Officer III+I Randal Simmons EOW: February 7, 2008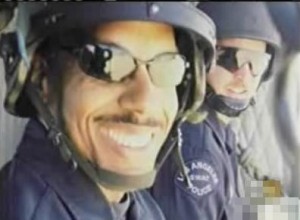 Officer Simmons was killed in the line of duty on February 7, 2008 while engaged in a SWAT operation. Randy was the first LAPD SWAT officer to be killed in the line of duty. The LAPES Pipes and Drum Band would like to extend their condolences to the family and friends of Randy Simmons.